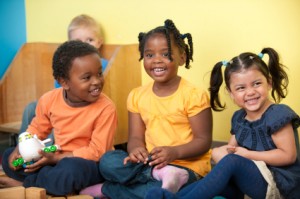 Child Development Center
New EXTENDED HOURS!!!
Kids Love Us!!
Both of my children went to ECDC and, by 12 year old son says that it was the most fun he ever had in school. After may years the team is basically the same. I can't say enough nice things about the staff and loving and caring atmosphere.  A. Cameron, Catonsville
We currently have openings for all age children 2-5!
Emanuel's Child Development Center offers a year-round Christian-based nursery school program for children ages 2-5, Mondays through Fridays from 8:00 am – 5:00 pm.  The units of study include both active and quiet activities.  Children may be enrolled either part-time or full-time, depending on availability, and children in diapers are accepted.  These programs are fully licensed.  Contact:  410-747-0702