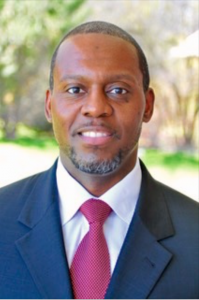 A native of Cleveland, Ohio, Pastor Levon D. Sutton is a 1997 graduate of Kenyon College (Gambier, Ohio) with a Bachelor's Degree in History. After graduating, Pastor Sutton relocated to Washington, D.C. where he has been a professional for nearly 20 years.
In 2000, by the grace of God, Pastor Sutton accepted the call to ministry and began his graduate studies at Wesley Theological Seminary in Washington, D.C. During his studies, Pastor Sutton served as ministerial intern at New Beginnings UMC in Severn, Maryland. Pastor Sutton received his Masters of Divinity from Wesley in 2005.
Following graduation, Pastor Sutton joined Epworth United Methodist Chapel in Baltimore County, Maryland. During his time at Epworth, Levon served in ministry as Discipleship Team Leader and Sunday School Superintendent. He also taught adult Bible Study, was Vice-President of the Epworth United Methodist Men, a member of Church Council, and also served as a worship leader.
In 2015, Pastor Sutton formally declared his candidacy for ordination and is currently a certified candidate in the Baltimore-Washington Conference. With this appointment, Pastor became Licensed Local Pastor during the 2017 Annual Conference.
Pastor Sutton brings with him a passion for serving God's people of all ages and races and believes the Church is more than a brick and mortar where people gather for worship. Pastor Sutton teaches and preaches that the Church is truly the believers of our Lord Jesus Christ who live out their faith every day by making disciples and making a difference in the community and the greater world.
Pastor Sutton is an active alumni of his alma mater the Kenyon College Alumni where he travels semi-annually to serve in the College's student mentoring program among other programs and activities. Pastor Sutton is also a member of Kappa Alpha Psi Fraternity, Inc.
In his spare time, Pastor Sutton enjoys personal fitness, is an active runner, practices yoga and loves traveling.
Pastor Sutton resides in Baltimore County, Maryland with is wife Adrienne, their two daughters Simone and Charlotte and their puppy, Pepper.
Among his many favorite passages from scripture is Psalms 100:5:
"For the Lord is good and his love endures forever; his faithfulness continues through all generations."